The Black Night Binoviewer Series.
Premium 25mm Prism Large Clear Aperture Black Night Super FMC $649.

<<<How they compare Video! More instruction links below.
Self Centering Dioptors Instruction Videos Click Here.
Videos 1 - 2 - 3 <These are for those who want to save these videos for off line use. Just Right Click and choose (save link as) to download and save.
When the Clear aperture is large it needs to be well Baffle to avoid off Axis reflections. If you see them in your bino baffling is lacking.
Binoviewer and Eyepiece Instructions.rtf
(See 2" 45mm Elite binoviewer page) (See 40mm Echelon binoviewer page
Ask About the Advanced Maxlight OCA's for Your Binoviewers
Whether you have a Dob, Refractor or SCT this is the binoviewer for you. As you will see below nothing even comes close for this price.
New packages below. The most advanced packages start in package #2 and get less expensive as you go down --Questions just email. harrysiebert@nc.rr.com or just call (919 553 3980)
Full instructions Diopter adjusters.
Fully Dielectric and Self Centering Double Diopters.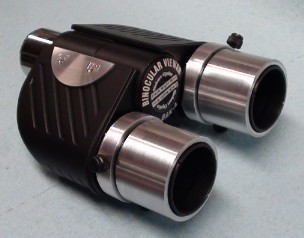 BN25 Binoviewer. See packaged below.
Which eyepieces will you will use is now up to you. Panoptic 24mm's, Siebert Ultra 24mm's or 32mm/40mm Plossls, the sky is the limit. You are not limited to eyepieces in the 20 mm range. In fact you can use the same eyepieces as TV and Baader and not worry about vignette. Want more information on this just call or email. More info below.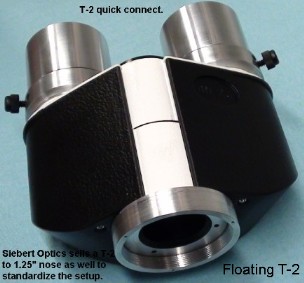 Add $69 For T-2 Free floating quick connect for T-2 low profile diagonals.
Fully Dielectric and Self Centering Double Diopters.
Here in a nutshell.
Acronyms defined: OP=Optical Path, CA=Clear Aperture, FIA=Fully Illuminated Area
These binoviewers are equal to or lighter then any other binoviewers on the market, They have more aperture then any binoviewer costing under $900, This means you can use any eyepieces you wish just like any other large prism binoviewer without the annoying vignette you get with binoviewer of small prism size. They have a OP/CA ratio that gives them the same FIA as the largest prism binoviewers on the market costing 3x plus.
Siebert Optics Clear Aperture Analysis page Click Here.
This is true in any scope with an optical system from f4 - f10. In fact there is only 2 Prism based binoviewers that will give you ANY diameter of FIA spot in an f4.5 system is (This is not using and Optical Corrector in the system) and they are Baader 28mm and the new BN 25mm dielectric. Want Proof Click here.
View Black Night Binoviewer Feedback Leave Black Night Binoviewer Feedback
If you have a question as to what setup best suits your needs just call.
919-553-3980. Harrysiebert@nc.rr.com
Youtube videos below to explain the Self Centering Diopters. Watch both please.
Video #1 ---Diopters INSTRUCTIONS A
Video #2 ---Diopters INSTRUCTIONS B
The most advanced packages start in package #1 and 2 and get less expensive as you go down --Questions just email. harrysiebert@nc.rr.com or just call (919 553 3980)
$649 (bnbinos#0)

When only Binoviewer purchased.

All Bn25 will be between 24mm - 25mm in all CA. Binoviewer Prisms are 25mm.

As part of most packages. $599

Package #1

Black Night binoviewers with

Dielectric coatings

Max Light 2" 2pc 1.0x(refactors) "or" 1.3x OCA (refractors and Dobs).
S
et of Ultra 19mm's (70 deg. fov; 20mm's ER) OR
Or substitute a set of 24mm's (65 deg. fov; 20mm's ER)
Add $100 for 38mm (x1 or 1.3x OCA)

(bnbinos#1)-dob/ref-L

$1049 (bnbinos#1)-dob/ref

$1149 (bnbinos#1)-dob/ref-L

38mm CA 1.3x OCA

Package can be used with Newtonians, Refractors and Dobs

Package #2

Black Night binoviewers with

Dielectric coatings

Max Light 2" 2pc 1.0x -1.5x -2.0x "OR" x1.3x -2.0x -2.7x for refractors and Dobs.

S
et of Ultra 19mm's (70 deg. fov; 20mm's ER) OR
substitute a set of 24mm's (65 deg. fov; 20mm's ER)

$1128(bnbinos#2)-dob/ref

$1278(bnbinos#2)-dob/ref-L

38mm CA 1.3x OCAMulti

Package can be used with Newtonians, Refractors and Dobs

Package #3

Black Night binoviewers with

Dielectric coatings

1.25x Multi Mag OCA or Advanced Max Light 1.8x OCA
set of Ultra 19mm's (70 deg. fov; 20mm's ER) OR
substitute set of 24mm's (65 deg. fov; 20mm's ER)

$949(bnbinos#3)-dob/ref

Package can be used with Newtonians, Refractors and Dobs

Package #4

Black Night binoviewers with

Dielectric coatings

1.25x 1.25" OCA or x2 OCA
set of Ultra 19mm's (70 deg. fov; 20mm's ER) OR
substitute set of 24mm's (65 deg. fov; 20mm's ER)

$938 (bnbinos#4)-dob/ref

Package can be used with SCT's Newtonians, Refractors and Dobs

Package #5

Black Night binoviewers with

Dielectric coatings

1.25x 1.25" Multi Mag OCA or Advanced Max Light 1.8x OCA
Or Max Light 2" 2pc 1.0x (refractors) "or" 1.3x OCA (refractors and Dobs).Add $99
20mm's Standard performance WA 65 deg fov and 18mm ER.

$849 (bnbinos#5)-dob/ref

Package can be used with SCT's Newtonians, Refractors and Dobs

Package #6

Black Night binoviewers with

Dielectric coatings

1.25x OCA or x2 OCA
20mm's Standard performance WA 65 deg FOV and 18mm ER.

$877 (bnbinos#6)-dob/ref

Package can be used with SCT's Newtonians, Refractors and Dobs

Package #7 SCT

Black Night binoviewers with

Dielectric coatings

3 in 1 Multi Mag (0.7x-x2-x3)
Set of Ultra 19mm's (70 deg. fov; 20mm's ER) Or substitute set of 24mm's (65 deg. fov; 20mm's ER)
Or Standard performance 20mm's WA 65 deg FOV and 18mm ER. Minus -$89

$968 (bnbinos#7-SCT)

Package for use with SCT's only

Package #8 SCT

Black Night binoviewers with

Dielectric coatings

0.7x OCA or x2 Magnifier
set of Ultra 19mm's (70 deg. fov; 20mm's ER) OR
substitute set of 24mm's (65 deg. fov; 20mm's ER)
Or Standard performance 20mm's WA 65 deg FOV and 18mm ER. Minus -$89

$918 (bnbinos#8-SCT)

Package for use with SCT's only

Package #9 SCT

Black Night binoviewers with

Dielectric coatings

set of Ultra 19mm's (70 deg. fov; 20mm's ER) OR
substitute set of 24mm's (65 deg. fov; 20mm's ER)
Or Standard performance 20mm's WA 65 deg FOV and 18mm ER. Minus -$89

$828 (bnbinos#9-SCT)

Package for use with SCT's only

Package #10 SCT/Dob/Ref

Black Night binoviewers with

Dielectric coatings

Choose your OCA-SCT or (D)ob/(R)ef
1.8x Maxlight OCA D/R
1.25x / x2 / 3.5x MM D/R
minus $20 for 1.25x OCA Dos/Ref
3 in 1 Multi (0.7x-x2-x3) SCT

Specify OCA Please.

$798 (bnbinos#10

Package #11 SCT

Black Night binoviewers with

Dielectric coatings

Standard performance 20mm's WA 65 deg FOV and 18mm ER.

$749 (bnbinos#11-SCT)

Package for use with SCT's only

SCT Corrector section

SCT Correctors

Super low profile 4 power multi mag 0.7x, 1x, 2x and 3x

1.25" 4 power model, $149 (OCAmultiSCT4)

2" 4 power model, $249 (OCA2multiSCT4)

================================

1.25" 2x Super low profile corrector for SCT's, $139

1.25" 3x Super low profile corrector for SCT's, $139

1.25" 4x Super low profile corrector for SCT's, $139

Focal Length Reducers

.7x for SCT's (Barlow Type) - $139

0.7x for SCT (Low Profile - Filter Cell Type - $119

OCA's (Optical Correctors)

Ultra transmission and performance. Advanced Max Light OCA's

Standard and Large 38mm CA for fast telescopes.

2" 2pc 1.0x OCA (for refractors) - $249 Refractors with 2" Diagonals and focusers

2" 2pc 1.3x , 2x and 2.7x OCA (for refractors newts & dobs) - $349 For Dobs , Newts and refractors with 2" Diagonals and focusers

2" 2pc 1.0x , 1.5x and 2.0x OCA (for refractors newts & dobs) - $349 For Dobs , Newts and refractors with 2" Diagonals and focusers

Low profile section. Advanced Max Light OCA's Compact setups are all 2" diagonal friendly.

Simple Refractor & Reflector Plug and Play Correctors

1.25" 2.0x OC, $139

1.25" 2.5x OC, $139

1.25" 3.5x OC, $139

1.25" 4.5x OC, $139

Recommend Eyepieces

18mm Performance WA, $149 set (Reg. $79 each)

24mm Ultra Plus SWA, $198 set (Reg. $129 each)

13mm Ultra SWA, $278 set (reg. $139 each)

15mm Ultra SWA, $278 set (reg. $139 each)

Accessory Cases

Centering Diopter Adjusters

Double diopters to our self-centering eyepiece holders for the Black Night Bino

$149-Value Free with Binoviewers