The New Black Night Diopters .

*Baader, TV, Denk and BW and many others just ask: Self Centering Diopters* (Click) $299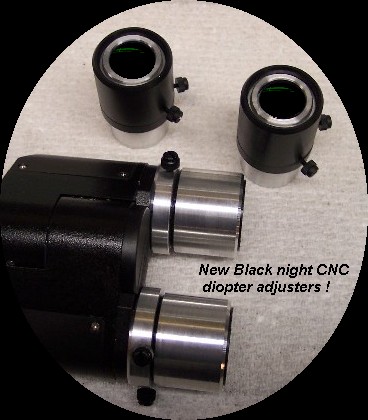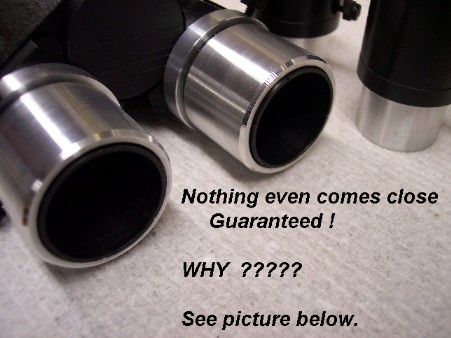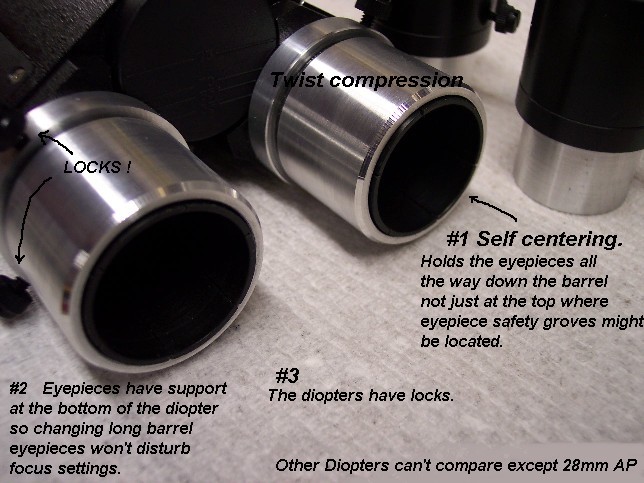 About # 1
Binoviewer alignment included in price of SCD-Holders installation.
A Diopter adjustment is a poor idea without a Self Centering holder regardless of the claims. The only two companies that have "True" Self Centering Diopter are Siebert Optics and Denkmeier Optical that is with the exception of Baader Mark V. The rest use different eyepiece holding methods that do not require the expensive process of making Micro helical focusers and an all sides compression holder like Siebert Optics and the few other companies mentioned.
The Siebert Optics model pulls ahead of the rest except 28mm Baader in that it holds the eyepieces all the way down the barrel of the eyepiece so safety groves in the eyepieces are not a problem. ( The compression Centering ring method SC eyepiece holder may have a problem here.)
About # 2
This is were some Diopters fall flat on their face. They have no bottom eyepiece support. The eyepiece is supported at the top of barrel only and not at the bottom of the eyepiece barrel. This can be a problem with eyepieces that have a tall barrel and will bottom out at the bottom of the eyepiece holder instead of the top first. So some of your eyepiece barrels will show although seated all the way in as far as it will go. Siebert Optics holders are taller then most at 35mm deep rather then 25mm but the Siebert holders also have a catch at the bottom of the eyepiece holder. What is the real payoff here. If you have an long barrel eyepiece and a short holder without a catch your eyepieces will not be carried up with the Diopter properly and if you have to change eyepieces you lose you Diopter setting and have to screw them down and start over again with the next set of eyepieces. Not so with these holders. If your eyepieces bottoms out before it is seated all the way in it will still be held at the bottom of the Diopter and will be identical to the other side. If you change eyepieces your setting are not lost. The bottom line is Siebert Diopters stand alone here with the exception of the 28mm Baader.
About # 3
This is were many Diopters fall flat on their face also. You can't lock them in place. Replacing the eyepieces are a two handed job. Diopters rotate off setting unless held during eyepiece changing.
So there you have it. Everything that makes Siebertoptics SC Diopters work RIGHT!
Use SiebertOptics SC Diopters on your Binoviewer.
Do you have a Denk, TV, Baader, BW optics or most others for that matter.
These binoviewers can use the same Diopter adjusters as my BN's. These Diopter adjusters are the best on the market bar none. "Product Service includes installation and collimation of binoviewer". Cost $299