_______________________________
Products:
Eyepieces From .965" / 1.25" / 2.0" / 2.7" / 3.0" / 4.0" / 4.3"

BT70 RA88 / Miyauchi / Kowa eyepieces
Advanced Barlow Lenses including: Modular and 4 element Telecentric magnification multipliers
1.25" and 2" Advanced Binoviewers From $449-$1999
Binoviewer OCA's and Accessories

Adapters - Meade Scopes and ETX


Large and Small Non Illuminated and Illuminated Cross haired eyepieces.

Large and Small Binocular Cleaning and Alignment services $49 Call or Email for details.

Special binoviewer services and products you cant get anywhere else
ICP's Image Correction Prisms for Newts

Observers Hood - light blocking


Ladies Corner
Astronomy Themed Fleece Blanket
Non-Astronomy Items
Binoviewer Correctors & OCA's and FLR's

We are the pioneers of this design.

Attention:

Do you want to focus your WO/Burgess or Stellarvue binoviewer without an OCA on your Refractor! This includes the WO SD/Astrotech 66mm and Orion 80/100mm ED refractors. See ad #2 for details Click Here.

What is the difference between an true OCA and a barlow that is typically supplied with these style binoviewers? (click here)
Supercharge your Baader, Burgess, SV, WO or similar binoviewer to work better with your Telescopes and save $$. See low power, easy focus solutions below in Ads #1 and #2.
Ad for all OCA's
#1a and #1b Performance low cost OCA's For all binos with 22mm or less Prisms.
#1C You Don't want any extra magnification? If you have a refractor this might be what you need.
#2 Limited Focus OCA's for Some Mak's / SCT's (Helps focus and give more magnifications.)
#3 High Output Maxlight OCA's for big Prism Binos (24mm+prizms)(including BW-optics)
#4 Low Profile diagonal friendly OCA's (Very convenient and versatile.)
#5 SCT Multi Mag adaptors (No focus help but gives extra magnifications.)
#6 Power Mag wheels for Dobs and Refractors (Quick Changing with limited focus swing.)
#7 FLR's for Mak's and SCT's (Focal Length Reducers to reduce magnification.)
All of these can be found below with more Details.
1.25x corrector for Baader, Burgess, WO, Stellarvue, Celestron, Orion, Moonfish, BC&F, Binomate and the like.
$149 (SBW -1.25x) This is a simple 1.25x OCA It is a 3 pc unit and is for any telescope Dob or refractor 1.25" Diagonal friendly
Instructions for corrector here

23mm Baader #(Ba23)and standard T2 nose pieces $30
>>>>>LOOK>>>>>
-----------------------------
1.25x Multi Magnification corrector for Baader, Burgess, WO, Stellarvue, Celestron, Orion, Moonfish, BC&F, Binomate and the like.
(SBW-1235) This is the 4 pc unit and is for any telescope $169 1.25" Diagonal friendly
1.25x, 2.0x, 3.5x
Instructions for this corrector

23mm Baader #(Ba23)and standard T2 nose pieces $30
>>>>>LOOK>>>>>
------------------------
1.25x OCA Corrector for Meade 90mm and 102mm. Focus assistance for these scopes to use with any binoviewer.
(Meade125102mm) $149

------------------------

You Don't want any extra magnification? If you have a refractor this might be what you need to come to focus with your binoviewer.
These low power correctors are guaranteed to focus in any scope both Dobs or Refractors.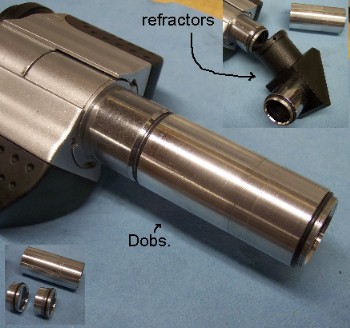 Total Dob penetration 3 3/4"
Instructions for corrector here
------------------------------------
This is a new corrector below that gives 1.25x magnification with any of these short path binoviewers. See instructions for a bonus magnification.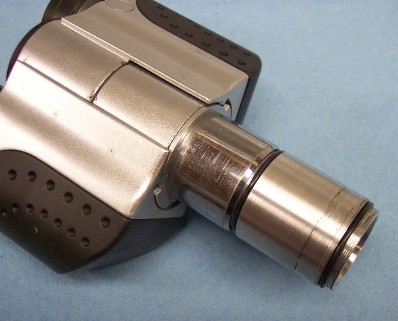 Total Dob penetration 3 3/4"
Instructions for this corrector
This is a complete Siebert Optics model for the same binoviewers that starts at 1.25x, 2.0x, 3.5x. Will work with dobs and refractors alike and 1.25" or 2" compatible scopes.
These OCA's will not work with any other body style then the ones mentioned above.
Fits right in focuser and is low profile.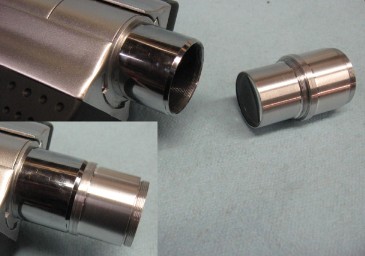 Bypasses the stop, while giving clearance to
the flip mirror. Adds focus without extra height.
Universal Binoviewer MAX Light OCA's
We are the pioneers of this design.
2" 1x and 1.3x Multi Magnification High Output OCA's For all Binoviewers
No back focus needed. These are Adjustable focus full compensations OCA's and x1 means Zero magnification is added to your eyepieces.
OCA's with T-2 male tops available for Baader and TV Binoviewers upon request.
Also Multi Mag adaptors below for all Binoviewers.
These come in a 2 pc models. They can be used for Dobs/Newts and Refractors.
1.3x Two Piece for Newts & Refractors, $249. (2OCA13)
X1 Mag Two Piece for Refractors, $249. (2OCAx1) Actual mag is 0.93x
.MultiMag Two Piece for Newts & Refractors, $329. (2multiOCA13) Mags 1.3x, 2.0x, 2.7x
.MultiMag Two Piece for Newts & Refractors, $329. (2multiOCAx1) Mags 1x, 1.5x, 2.0x
.MultiMag Two Piece for Newts & Refractors, $329. (2multiOCAx113) Mags 1x, 1.3x
>>>>>>>>>>>>>>>

TV and Baader 28mm nose piece and is $30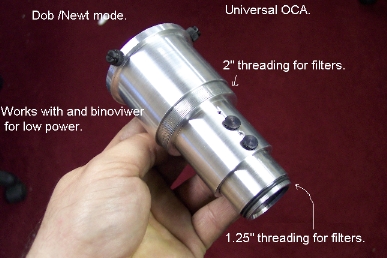 Shown in Newtonian mode.
No back focus needed.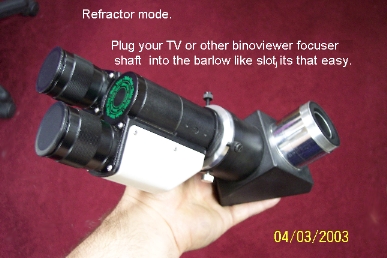 Shown in refractor mode.
No back focus needed.
Not enough can be said about the above corrector. The magnification factor can be as low as .93x and is sharp to the edge of the field of view in a set of my 24mm Ultra Plus's or Panoptic 24mm's. If you own a refractor and a TV or Denk binoviewer or any other large Prism bino you will be blown away by the bright low magnification images. It use to be that binoviewing carried a higher magnification price. Now Siebert Optics has changed all that. Try this product for 30 days and if you are not completely satisfied return it for a full refund of the purchase price. This unit has been thoroughly tested in a number of different scopes including specifically TV scopes.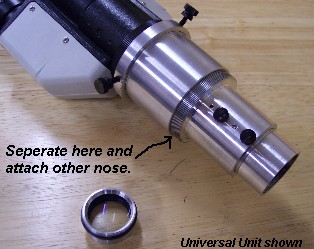 Low Profile and 2" Diagonal friendly
1.25" 1.8x Low Profile Universal OCA for All Binoviewers including Denk, BW optics, Burgess And Televue.
Only extends 1.75" below the nose of the binoviewer, similar to the Televue x2 corrector.
1.25" model, $149 (OCA1#1.8)

TV and Baader 28mm nose piece and is $30
.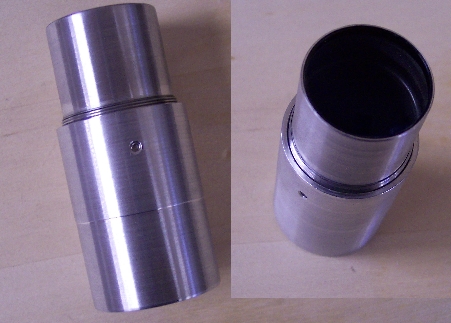 This corrector has standard filter threads and screws directly into the bottom of your binoviewer's focuser shaft nose. It is incredibly short and completely parfocal. Also it is diagonal friendly like the TV unit. This means that it does not have to come in 2 pieces, but can be simply be screwed into the nose of your binoviewer and then placed in the diagonal of the scope. Most 2" diagonals will be deep enough for it to go in completely. For those that can't a depth adjustment ring is included which allows you to adjust how deep it goes into your diagonal. 1.25" diagonals usually have their own stop before the mirror or prism. But this is not all.
I affectionately term this unit "The Equalizer". The reason is it takes small format binoviewers and makes them perform like 26mm aperture units in certain key ways. First it improves light throughput dramatically through the lower 22mm aperture and channels the light to the eyepieces in a very fine beam. Unlike when using a binoviewer in an SCT where the clear aperture at the bottom of the binoviewer is all important for light throughput, refractors and dobs require an optical path corrector. So a similar barlow/optical corrector unit must be used anyway. This is where this unit comes in. Read the explanation below.
This little units is going to solve a lot of problems for binoviewer users. There are so many binoviewers out the that have a 22mm clear aperture or less and most people have resolved that there unit will be condemned to being a planetary unit period. But this has now changed. I have heard of people asking about the Televue X2 corrector for their Bino units so they can use lower mag. The TV corrector can give the smaller Binoviewer a great edge in terms of light throughput and wider illuminated fields. But the TV corrector is not threaded for most binos which means that on top of the cost of the corrector you must buy the adapter also for an added expense. This Siebert 1.8x 1pc OCA can do so much to simplify and enhance small binoviewers. There are some applications such as in SCT's where a larger aperture makes all the difference in the world. This is primarily when no corrector is used. The bottom clear aperture of the binoviewer becomes key to good light throughput. But in a refractor or dob the playing field can get flat as a pancake, particularly when these correctors are used. These correctors channel light in a much narrower beam that passes through the smaller aperture binoviewers unrestricted and reach their eyepiece target with almost no light loss except through boundary penetrations. The end result is unexpectedly bright images. During tests the Orion was exceptionally bright. You say, "Well you can expect that". How about M3? That globular was fully resolved in my 10" dob, BW optic binoviewer and the 1.8x corrector in place at 140x. Now keep in mind that my 10" dob is a f/7.2 and is 1850mm in focal length. But in my scope this was a great magnification for this cluster and averted vision showed a completely resolved cluster. "Oh, well that is a 6.4 magnitude cluster. How hard can that be?" I moved onto the Whirlpool Galaxy which is well over a magnitude 9 and a double smudge was easily viewable in magnitude 5 skies. In contrast the Whirlpool was not even as easily resolved in my Nexstar 8 with a single eyepiece. It was easier seen in the 10" dob with the binoviewer/corrector combo than lower magnification in a single eyepiece on my Nexstar. For most refractors or dobs the magnification of this corrector provides should put you in a prime magnification for most deepsky objects. If you dob has a 1200mm focal length your magnification will be roughly 90x or a 1500mm focal length would be roughly 110x. This magnification is good for most galaxies and nebulas and, in fact, you may need quite a bit more on globulars. One more piece of good news. Like the Televue x2 corrector it is very short and diagonal friendly so you don't need two separate pieces. It all fits into your diagonal and has a supplied stop so you can control your depth. In almost all refractors used it easily came to focus. In Newtonian's where it can be seated in fully, roughly 2.5", it is completely parfocal with a single eyepiece. So this optical corrector has it all. It is short, improves quality of the eyepieces used with it, parfocal and when using a refractor or reflector can illuminate a 65 deg. fov in a 24mm eyepiece as brightly as any large aperture binoviewer can. This statement is based on comparative tests with larger format binoviewers.

Ad#5
3 in 1 1.25" SCT Multi-mag Universal OCA for All Binoviewers
Low Profile and 2" Diagonal friendly
This will give you 4 different mags.---0.6x/1.2x/2.0x/3.0x All with one OCA.
1.25" 4 power model, $149 (OCAmultiSCT4)
-----------------------------------------------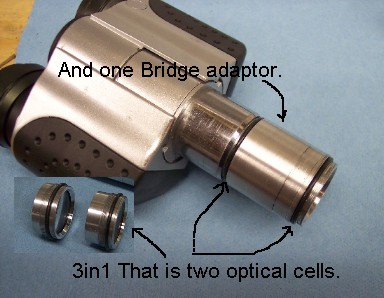 3 power SCT OCA shown.
An all inclusive optical corrector has been developed for SCT's. It covers 4 different magnifications as follows: -0.6x; 1.2x 2x and 3.0x. All of these combinations are possible with this simple corrector. Super lightweight and compact. The corrector takes advantage of the SCT's ability to focus which allow the unit to be super low profile. All aluminum construction. All optics have been ray traced for flawless edge performance. The -0.6 is achieved using the focal reduction cell (#1). 3x is achieved using element #2; then last using #1 first then #2 together with a connecting bridge, you will achieve 2x magnification. 1.2x is the binoviewer with no optics in place.
What does this mean? A tremendous savings in eyepiece pairs. Buy one premium set of eyepieces and every magnification is covered. Even relatively inexpensive eyepieces are augmented with the use of these correctors. . Because these corrector cells are threaded for standard filters the other applications are endless.

Price is $149
GALAXY VIEWER
BINOVIEWER FOCAL LENGTH REDUCER
FOR SCT'S
1.25" or 2" 0.6x FOCAL LENGTH REDUCER FOR ALL Binoviewers.
(Illustrations to right)
1.25" Barlow type for all binos $129 (looks similar to shorty type barlow. (FLR125Bar)
1.25" Filter cell type for All binos $99 (looks similar to a filter cell. (FLR125cel)
2" cell holder with 25mm optic. $129. (FLR2)
For 2" units with 40mm optics add $149
1.25" Filter cell type for WO/ SV/ Burgess $79 (looks similar to a filter cell. (FLR125SVcel)
Have a wider True field with the same eyepieces.
How it works.
This a focal length reducer for your SCT and binoviewers. People need to be warned about these. They can work very well if you don't overdo the focal length reduction. That is why this unit is limited to a 40% reduction which means that if your scope is operating at between f/10 and f/12 you will get a roughly 40% reduction to between f/6-F/7. This may vary slightly depending on your binoviewer. This is about the maximum that can reasonably be done for two important reasons. 1. Focusing. This unit will focus in virtually any SCT 8" and up with some focusing to spare, 2. By driving down your focal length below f/6 you may introduce so very serious optical irregularities. Call for more information about this. Do not expect an f/10 system to be reduced to f/5 or under f/5 and perform halfway decent. These focal length reducers will maintain excellent image quality and color correction while reducing your scopes magnification. You can use a set of 24mm SWA without apparent vignetting unlike other models which limit you to more powerful types of eyepieces.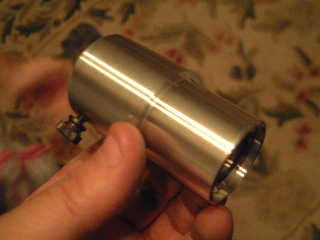 2.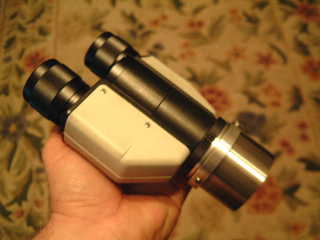 Design benefits of the Siebert Optics OCA's:
This is the way the design has changed and why. As long as this unit is kept at 3.5" or shorter the entire cone of light easily makes it through the lower optic with a diameter of 25mm-26mm. Even the Televue x2 Corrector is roughly 3" from the bottom of the binoviewer and only has a clear aperture of 17mm's. But because of the length of the unit the entire cone of light makes it through that aperture and the unit remains parfocal. My personal opinion is there are no present x2 correctors that has better light throughput or superior image quality to the Televue x2. But anyone looking at the unit will notice that the upper element is substantially larger than the lower one and not the other way around. The reason for this is as the light passes through the lower negative element a diverging lighjt cone is created which spreads out , but because of its relatively close proximity to the upper element and the fact that the upper element is larger, very little if any light is lost. The result is a fantastic transmission up to the eyepiece. If anyone needs proof that a lower negative element deverges light, simply plug a barlow into your scope from f/4-f/10 and you will notice the inside of the barlow tube is illuminated from just above the element all the way up. Here is a visual illustration to show what this looks like.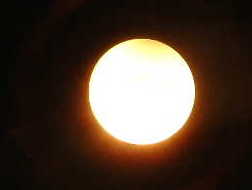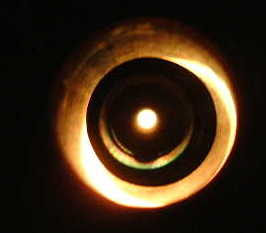 Convergent beam +150mm divergent beam -150mm
This was the same case in an optical system from f/4 to f/8. On the left a hollow reflective tube was used the same as on the right. The whole basis of the Televue powermate series is that the upper positive element is a pupil correcting element that reconverges the beam and eliminates the negative aspects of the negative elements used in standard barlows. So the problems caused by standard barlows are caused by a diverging element (ie. higher eye relief, vignetting and some light loss) this is corrected in the powermate.
Some of the larger 2" x2 barlows have a very huge baffle about 1/2 way up to the eyepiece and restricts the aperture roughly down to 30mm's. These barlows have a negative element of almost 40mm's in diameter. What this tells you is that even though the lower element is 40mm's the manufacturer knows you are not getting the full benefit of the lower diameter element. So what needs to be done is similar to what the clever engineers down at Televue have done and that is fine tune the optical system using a large enough lower element to make sure the entire light cone makes it through. The key is to enlarge the upper element so that as much of the diverging light as possible is retransmitted back into a convergent beam towards the eyepieces. Look at the pictures below.
(click on pictures below to enlarge)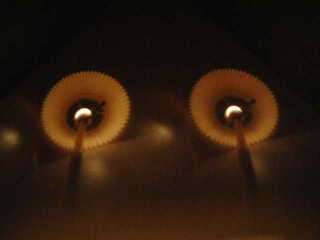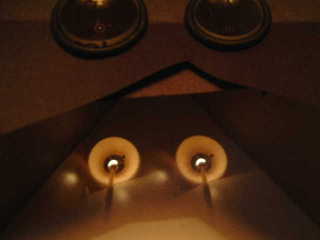 The illustrations above shows the light throughput differences between a 30mm positive element and a 25mm positive element. Theoretically on paper this represents a 44% increase in light. What does your eyes tell you? The left side is substantially brighter given they have the same illumination source. This is not a new concept. Objective lenses are made larger for increased brightness. Because the negative element creates a divergent beam the larger 30mm upper element is imperative to good light throughput. In my tests comparing the 25mm and 30mm elements the 30mm element reduced vignetting tremendously and gave much better illumination. If a 25mm element was sufficient for transmitting the necessary light doubtful that the vignetting would have been so drastically reduced by the 30mm element. Also a 30mm element is the max size necessary for most binoviewers on the market today since none have a larger prism clear aperture of more than 30mm's. So 25mm's is not enough and 31mm is too much. This is the principal that our new OCA designs are based on. Instead of having an extremely large lower element 35mm's or bigger, which in reality is only a psychological advantage. Any benefits of a larger lower element are quickly wasted due to the distance to the second element and the relatively small size of that second element. In this case the whole unit is shortened so that the optics are spaced much closer. The lower element has a clear aperture of roughly 25mm's. which is at least 2-3 mm's larger than the cone of light at f/4.5. The whole unit is parfocal so that any advantages of the short unit are not wasted by having to rack your focuser all the way in. The upper element receives and transmits 44% more of the light reaching it over a 25mm element. The result is a superbly balanced optimal system that works every bit as good in the 1.25" size as in a 2" size. Hence why in the units below the 2" is designed exactly the same way as the 1.25' units only in larger diameters.
Understandably other companies will have their own take and opinions on their own optical designs.
1.8x OCA instructions below.