Welcome to Siebert Optics
We are suspending taking orders until August 1 We are delivering 3 Elite binoviewer in July and are clearing the time in June-July to finish them up. If you do place an online order it will not be filled until the beginning of August.
We are Limiting what products we are taking Orders for at this time. Click here for details.
We do complete alignment and Cleaning services. Short List>>>Apogee / Miyauchi/ Kowa / BT and many other Binoculars. Prices for cleaning and alignment starting at $99 Click here.
Siebert Observatory Series Eyepieces and Diagonals are being used in the largest visually capable telescopes in the world today. Look and see what these eyepieces can do for your Long Focal length Telescopes. Click here.
New Large 38mm CA 1.3x OCA for All binoviewers.
-----------------------------------------

Meet a Astrophotographers new best friend. New Super CCD: (PALS) for short (P)hoton (A)cceleration (L)ens (S)ystem. Simply connect it stand alone (No Telescope Needed) to the front Of your CCD camera and take images of the sky at x5 and with 30 second exposures and get results just like these. (Click Here)
Read the info within and you will understand why Nothing even comes close.
Watch this video "Click Here" ---More "Click Here.".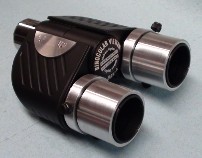 New Orthos Here Triple-S Series

Click here for the New 2" T-2 modular Barlows.
Supercharge your Stellarvue, Williams Optics and many others like it.



Do you want to share the same high End Binoviewing experience as those who own expensive models from the Big Prism Binos (TV, Denk, Baader) at a fraction of the cost. Do you already own one of the following binoviewers: Williams Optics, Orion, Stellarvue, Burgess, Celestron, Moonfish and Baader 23's etc..... Then you already have what you need to get started. Why pay $900+ For the privilege of using low power wide field EP's Click here for details.
(Specialized Binoviewer services you can't get anywhere else)
Home of quality, affordable Telescope Optics such as Eyepieces, Barlow Lenses, Image erecting prisms, Diagonals that focus. Low Power Illuminated Focusable Eyepieces, Special modified Binoculars. Camera focusing adaptors for all telescopes including the PST. Adaptors so your filters fit your eyepieces Adaptors so your Diagonals fit you scopes. and a variety of different size of high quality Binoviewers and OCA's for all Binoviewers (for comfortable two eye viewing) and other binoviewer accessories.
More things of interest Delrin 2" 1.25" T - 2 or T thread End Caps.
Please feel free to check out our site. If you have any questions, please feel free to ask either via email or phone (1-919-553-3980). Harry will try to answer any questions you may have as promptly as possibly.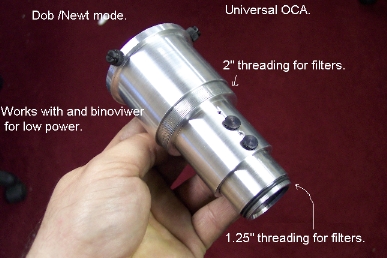 Click here to go to the OCA and binoviewer corrector page.
Universal 1.3x and Zero mag OCA's above. This means you can use any binoviewer with little or no magnification added. Always see it here first. This technology, although similar to the OCS technology, has different characteristics and applications.
Click Here to go to the PST and H-Alpha bino corrector page.
User Reviews on Black Night Binos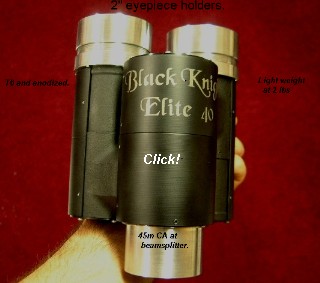 Check out the Elite Series 2" binoviewers.
Siebert Optics 2" Binoviewer 's come standard with self centering compression eyepiece sockets similar to TV and The older BW Optics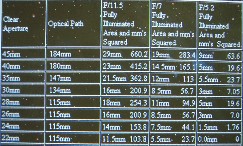 Check out this independent Diagonal calculator if you want too know more about what
What Will Binoviewer CLEAR APERTURE will buy you.
60 day money back guarantee on Black Knight units and accessories.
We are not taking new orders at this time
We are not taking new orders at this time
Except
For Binoviewer OCA correctors/ BN25mm Binoviewers and Packages/ VP and Elite Binoviewers and Packages/ Large format Eyepieces and Diagonals/ Pal Astrographs/ Binocular eyepieces including Kowa / Binocular repair Also Barlows can be made available upon request but may take a few weeks to deliver. These are the main items we are still taking orders for. All large ticket items take a few weeks to ship unless otherwise stated.
If you ask there may be some items and Services available like binoviewer alignment and Supercharge services. Also services for alignment of miyauchi binoculars and similar binoculars. There may also be some items beside those items mentioned. So please email for availability of requested items.
We will now be clearing a portion of the back log of 45mm Elite binoviewers and large format Eyepieces/Diagonals now on order.
If you want to order something not currently avalible from this website other then the items mentioned then you can put in an online order and your items will be on backorder and will be filled at a later time when the items become available again..
We are sorry for the inconvenience but we are trying to be fair to those that have already placed orders. We hope to be back filling regular orders as soon as possible.
Harry SIebert owner of Siebertoptics.
Gift Certificates are available for any amount you may wish. Just email or phone and ask how you can obtain one.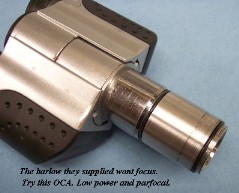 Page for All OCA's including Low power" correctors for Baader, Burgess, WO, Stellarvue, Celestron, Orion, Moonfish, BC&F, Binomate and the like. More info..
-----------------------------------------------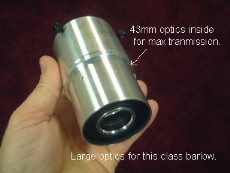 Here is the 2" Ultra barlows similar to the TV powermate.

Also look at the new modular element barlows for 3 magnifications in one barlow.
-----------------------------------------------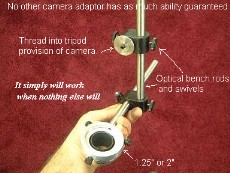 Universal Camera adaptors for both 1.25" and 2" focusers and your most demanding applications. These will work with any telescope-camera-eyepiece combination.
-----------------------------------------------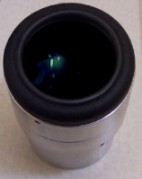 Our 2" Observatory series are unmatched for the price in performance. Edge is flawless at F/5 and even below.
-----------------------------------------------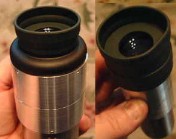 The Ultra series are the perfect blend of Eye Relief and Wide FOV. Sharp in fast scopes and comfortable to look through. Try one you'll like them.
-----------------------------------------------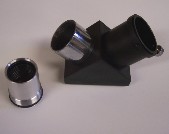 Do you need an Inch" Check this out. Zero mag Camera Focus adaptor It will give you 1 inch of focus free of magnification. And help with coma.