Siebert Optics SS3 Modified Orthos. Enhanced 5 element design.
The Star Splitter or SS3 series. With 60 deg FOV and 12mm ER. Large eye lenses.
There may be other Focal Lengths are available not listed here. Inquire for details. Click here
Specify series and size. Example: (SS3/4.9mm)
Barlow can be ordered in Brass. Add $70
1.9mm, <<New
2.4mm, <<New
2.9mm, 3.4mm
3.9mm, 4.4mm
4.9mm, 5.4mm
5.9mm, 6.4mm
6.9mm, 7.4mm
7.9mm, 8.9mm
9.4mm, 9.9mm
---------------------------
8.9mm-9.9mm $99. These excel from f/6 up (Brass add $30)
2.9mm-7.9mm $139. These excel from f/3.3 up (Brass add $50)
Outstanding performance with a lower price. Now these are made in more powerful size.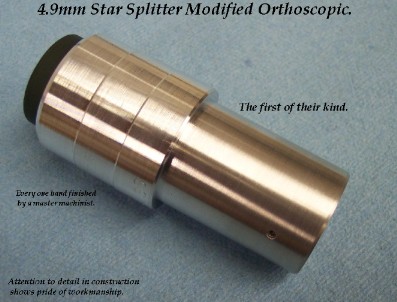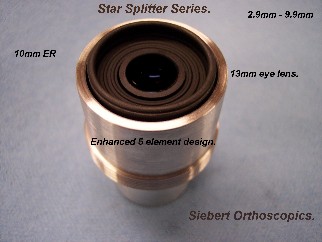 It all comes together here. Razor sharp performance, Good eye relief and 60+ deg FOV. Sharper and with higher contrast than anything you have tried. 30 day money back guarantee.
Brass Ortho's available >Click>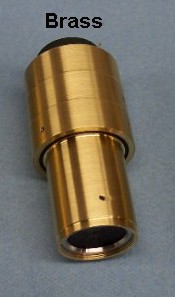 This is an Enhanced Orthoscopic design that blends the best of the Abbe Ortho design with additional advanced features like ER and Large FOV.
All eyepieces are threaded for filters