*1.2x OCA (HA-1.2x) for All H-Alpha scopes with1.25" Diagonals $149. 60mm and larger Lunt scope adaptor Add $30
User instructions for above 1.2x H-A OCA corrector Except 60 Lunt.
60mm-152mm+ Lunt User instructions for above 1.2x H-A OCA corrector.
** Universal 1.3x OCA (PST-1.3x) for PST - $129 See review click here.
User instructions for above 1.3x PST corrector
Observing Blankest for H-A or night time use. Click Here
More Ad details at the bottom of this page on all the above OCA correctors
As well as recommended eyepiece ranges
Below is what can be used and seen with the new optical correctors that allows the PST or any other H- Alpha Telescope to be used with a Camera and binoviewer.
These simple plug and play correctors are all you need to have comfortable 2 eye viewing with your TV, AP, Denk, BN, Burgess, SV, WO, Celestron, Orion and most other binoviewers you can think of.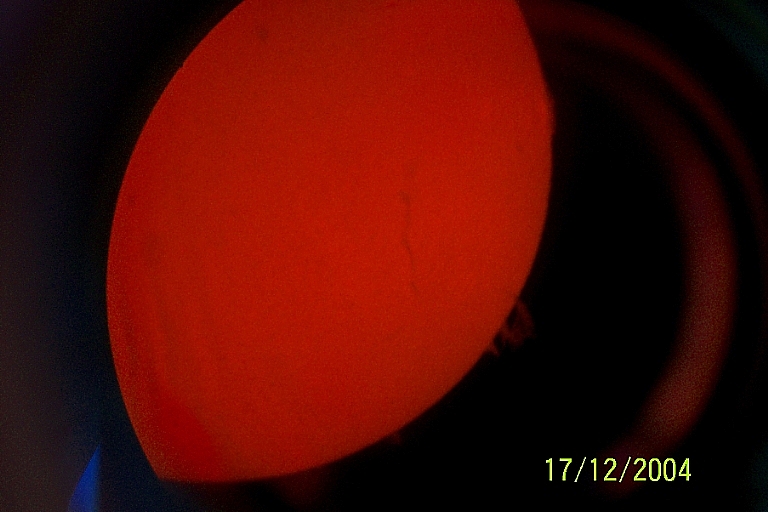 This Photo taken with a PST and a Black night binoviewer using a 19mm Ultra. Camera hand held.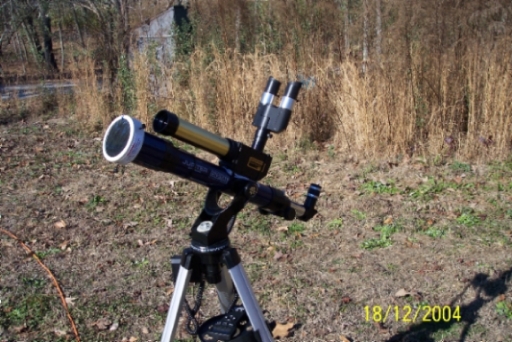 These optical correctors can be use with any Binoviewer in any H-Alpha telescope. Some thought that the PST could never use a binoviewer because of its limitations, but this is no longer the case. Shown here is the 1.5x corrector that has been discontinued in favor of the 1.3x corrector..

More H-A info
**Universal 1.3x OCA for PST -- all binoviewers.
The 1.3x is an advanced corrector in their composition Less magnification and slightly better correction than any other correctors on the market today made for the PST. They are also less expensive. $119. It uses a barlow like adapter to re-space the binoviewer and is parfocal with any single eyepiece. You can use it with any binoviewer. Televue, AP Badder, BW-Optics, Denkmeier, Siebert Black Night Series and any $200 category binoviewer such as Burgess, Williams Optics, Stellarvue etc......
Eyepieces in the 9mm - 30mm range are best. Universal 1.3x OCA
*Zero profile 1.2x OCA for All H-Alpha scopes 40mm, 60mm, 70mm, 90mm CA with 1.25" diagonals
This is a great corrector and is very easy to use. It also works on regular refractors when using a 1.25" diagonal and gives the same low magnification and razor sharp images.
Eyepieces.. Any and all 1.25" format that does not over magnify image.
60mm Lunt instructions below. >>>Look at the Arrows direction. >>>